Warning: A non-numeric value encountered in /home/yellow20/public_html/wp-content/themes/gonzo/single.php on line 52

Warning: A non-numeric value encountered in /home/yellow20/public_html/wp-content/themes/gonzo/single.php on line 53

Warning: A non-numeric value encountered in /home/yellow20/public_html/wp-content/themes/gonzo/single.php on line 54

Warning: A non-numeric value encountered in /home/yellow20/public_html/wp-content/themes/gonzo/single.php on line 55

Warning: A non-numeric value encountered in /home/yellow20/public_html/wp-content/themes/gonzo/single.php on line 56

Warning: A non-numeric value encountered in /home/yellow20/public_html/wp-content/themes/gonzo/single.php on line 57

Warning: A non-numeric value encountered in /home/yellow20/public_html/wp-content/themes/gonzo/single.php on line 58


Interesting People
Published on March 30th, 2011 | by Yellow Magpie
2
Graeme Obree: The Turbulent Flying Scotsman
[adsense]
His story was the stuff of fairytales. A man ascends from nowhere to become internationally famous in the world of cycling. Unemployed for six months, during which time he decided to go for the one hour record, Graeme Obree was an unlikely candidate to enter cycling history.
Obree was pitted against the Olympic gold medal-winning 4km pursuit specialist, Chris Boardman. A perfectionist by nature, Boardman had a dedicated team that constantly analysed his performance. He also was backed by a well-funded operation.
Obree had none of this, just himself and his bike. Without access to computer wizardry, the Scotsman contented himself by training in the Scottish hills on a large, big gear, torturing his body to climb up steep, punishing gradients.
The Cycling Prestige Of The One Hour
Although some may cite the Tour De France or Olympic Gold medals as the peak achievements in the world of cycling. For most cyclists there is one record that sets the bar and that is the One Hour Record. The five time winner of The Tour De France and whom many consider to be the world's greatest cyclist, Eddy Merckx, stated that the One Hour event was the toughest race of his life.
The race is quite straightforward to understand – the cyclist must travel as far as possible in one hour.
However, not many pro-cyclists are willing to enter the One Hour event as they can lose too much and their reputation and careers can end up shreds.
The Birth Of Old Faithful
Obree's bike was completely different from anything that had gone before. He adopted a skiing position. In which his centre of gravity was further forward than on a normal bike. The bike also had no top tube, the front fork which held the front wheel only had a single blade instead of the normal two and the bearings for the bottom bracket were made from an old washing machine.
It is his radically redesigned bike that provides the best insight into Obree's mind. Unwillingly to conform to convention, his bike was a reflection of a creative mind that sought to challenge the norms and come up with new, better ideas. He named his bicycle 'Old Faithful'.
The One Hour Record Attempt
Obree's first attempt in Norway in 1993 ended in failure at one kilometre short of Francesco Moser's record. However, Obree, had use of the track for 24 hours and he decided to attempt the record again the next morning. Staying up all night and drinking large amounts of water to keep him awake, he kept exercising and stretching his body to avoid the muscles seizing up.
That morning Obree attacked the record with tremendous determination and the 12 year record fell by the wayside as he achieved a distance of 51.596. In 1999, Moser would later admitted that he had used blood doping to help him beat Merckx's One Hour time.
Boardman And The World Pursuit Championships
His celebrations were short-lived though as one week later Boardman would go to break his record in the Velodrome in Bordeaux.
Obree then set his sights on the World Championships in Norway. After taking the British Championships, he qualified as part of the two man team, together with Boardman. It was at the World Championships that Obree, riding his homemade bicycle, Old Faithful, that the Scot would become World Champion and break two world records in the individual four kilometre pursuit.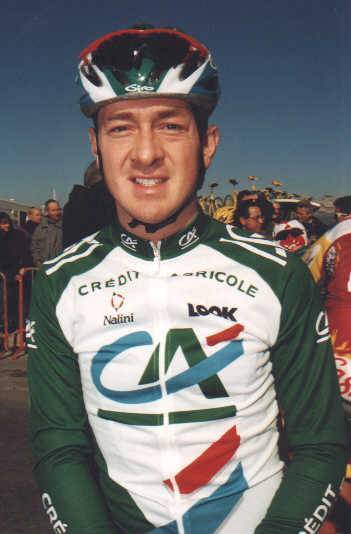 1994 was another good year for the cyclist as he retook the One Hour Record with a distance of 52.713 kilometres.
Conservative Authorities Ban Old Faithful's Riding Position
The world cycling governing body, Union Cycliste Internationale, were dismayed that the world records were being broken so often and this consternation was directed at Obree and his radical bicycle and so with just one hour before the One Hour Record, Obree was told that his unique riding position was banned. Obree was disqualified from the race.
The Union Cycliste is a notoriously conservative organisation. Founded in 1900 and based in Switzerland,  in the 1930s the organisation had banned recumbent bicycles which are far more efficient than upright models.
The Union Cycliste had fretted that bike design was now becoming more important than the calibre of the rider. However, it must be noted that many competitors who set records in the One Hour event had failed drugs tests. Including Eddie Merckx who tested positive for banned substances on no less than three occasions.
Obree And The Superman
At the 1995 Individual Pursuit World Championships Obree developed a new riding position which became known as The Superman. Once again he took the honours cementing his place in cycling history. The Superman position was quickly banned by the Union Cycliste.

Attitude Towards Doping
Although Obree joined a professional team to do the prologue stage of the Tour de France, he never made the transition to professional rider.  Speaking to Alistair Campbell in the Independent, Obree stated that once he refused to take drugs he was fired. 'it was made very obvious to me I would have to take drugs. I said no, no way, and I was sacked by my team'.
Cycling is a sport that has being dominated by doping virtually since its inception. There are very few winners of the Tour de France who have emerged unscathed from both drug allegations and positive test results. Many cycling commentators and former competitors such as Floyd Landis and Paul Kimmage believe that is impossible to win the competition if you are clean.
The Woman Behind The Man
Obree had unwavering support in his wife, Anne. A nurse, she provided the incentive and the encouragement for Graeme to go out and pursue his dream of being a cycling record-holder. She was also the stabilising influence on her husband as he dealt with clinical depression and troubling issues.
The Darkside Of Graeme Obree
Graeme Obree, despite his glorious successes, was a tortured soul. Severely bullied as a child, he suffered from clinical depression and bipolar disorder. He would often go from cyclothymic bouts of euphoria to spiralling lows.
At his lowest point, he tried to commit suicide by hanging himself after his brother, Gordon, had died in a car accident. Fortunately, he was spotted by a woman who found him unconscious in a barn. Previous to this as a teenager he had tried to asphyxiate himself using gas but his father, like the woman, found him and saved him.
Driven by fear and a lack of worth it was cycling that afforded him some semblance of balance and normality. But it would also lead onto obsession – which in part helped him to become a cycling phenomenon.
In 2011, Grame Obree in an interview with the Scottish Sun came out that he was gay and that his suppression of this fact had contributed to the lowest points in his life. He is now divorced from his wife Ann.
The Impact Of The Flying Scotsman
Not only did Obree recast the mould of the One Hour event he became a sensation. An amateur cyclist, who refused to settle for convention, Obree not only competed with professional cyclists, he dominated them. He proved that intelligence and determination counted far more than money, sophisticated computer technology and experience.
Obree is the proof of a world in which dreams do come true, a world in which people, with enough dedication and correct application can excel in any field.
Highly Recommended Get The Book Through Amazon
Check out Yellow Magpie's review of The Flying Scotsman Film Review: A Movie Which Creates It Own Cycling Story for a cinematic insight into Obree. You may also like to read The Humble Bike: Serving Us Well Into The Future to look at the what bicycles and cycling mean to people.
Graeme Obree's Flying Scotsman: Cycling To Triumph Through My Darkest Hours is a highly entertaining and informative read from the cyclist. It provides a much deeper insight into Obree than the film and documents his tragic past with school bullies, indifferent teachers and his dangerous association with alcohol.
You can obtain Flying Scotsman : Cycling to Triumph Through My Darkest Hours

here from Amazon.
Amazon.co.uk
For people living in Ireland or the United Kingdom you can access Flying Scotsman: Cycling to Triumph Through My Darkest Hours
here.
Amazon.ca
For those living in Canada you can obtain Flying Scotsman
from here.
Amazon.de
For Germany: Flying Scotsman
.
Amazon.fr
For France: Flying Scotsman: Cycling to Triumph Through My Darkest Hours
.